Quick search for properties in the West Loop. Click on the links below.
West Loop Condos <$200,000
West Loop Condos $200,000 - $350,000
West Loop Condos $350,000 - $500,000
West Loop Condos $500,000 - $750,000
West Loop Condos $750,000 +
West Loop Rental Listings

West Loop Neighborhood Video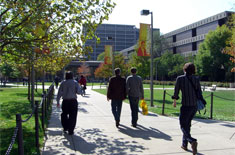 The West Loop makes up the north central area of the Near West Side, west of Chicago's Loop. It is bordered by the Kennedy Expressway to the east, Grand Avenue on the north, the Eisenhower Expressway to the south, and Ashland to the west. The neighborhood also extends to the Chicago River south of Madison St. This area is called the West Loop Gate. Comparable to New York City's Meatpacking District, the West Loop is a former manufacturing corridor turned art-edgy neighborhood. The West Loop is made up primarily of warehouses that are still in use or recently converted to loft condominiums, newly constructed "loftominiums," restaurants, night clubs, a growing number of art galleries, and some retail.